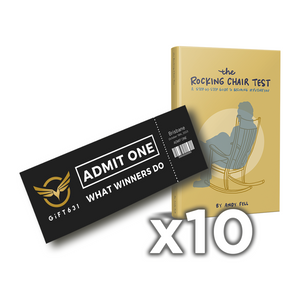 Welcome to the What Winners Do Experience!
Join your mentor Andy Fell, for an action packed day of development and discovery as you design your new life, and embrace it with clarity.

Your 10x event tickets includes: 
- 10x copies of Andy Fell's brand new book, The Rocking Chair Test!
- Access to the full day of content and material as hosted by Andy Fell
- Tea, coffee and morning tea
- Plenty of networking opportunities with like-minded people
When you leave you will have your own personal success system - a tool-box of winning habits, frameworks, strategies and routines to help you move in the direction of your potential.
Event Details: 

Date: 22nd February 2024
Location: Allan Border Field, 1 Greg Chappell St, Albion QLD

Timings: 
8:30am: Registration
9:00am: Start
2:45pm: Close