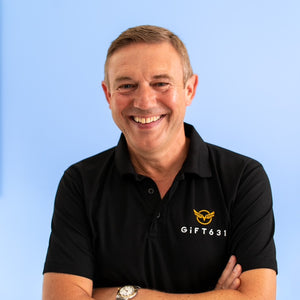 Work with international speaker, published author and coach Andy Fell, the founder of GiFT631 across 4  1:1 virtual sessions (via Zoom). With each session running between 45-60 minutes, Andy will work with you to help you pass establish:

A clear sense of direction to enable you to be more intentional in all you do.
Clarity of goals.
An improved level of self-belief and confidence.
More effective use of time to establish a high performance diary.
Winning habits and routines to get into your high performance state.
How to focus on your continued improvement and ongoing self-development. 
In this programme, a clear purpose and objectives will be established at the start of the first session to ensure we can uniquely tailor the programme and focus on what matters most.

Participants are encouraged to purchase a copy of The Rocking Chair Test and subscribe to Andy's YouTube channel: youtube.com/c/AndyFellGiFT631
Available times to be agreed per participant as follows:
UK/Europe: 7am-midday or 7pm-10pm

East Coast USA/Canada/South America: 7am - 9am or 3pm -10pm

West Coast USA/Canada/South America - midday to 10pm 

South East Asia, Japan, China - 6am to 9pm

UAE/India - by agreement

Australia/New Zealand - to suit client requirements
The price above is quoted in Australian Dollars, however you can purchase with any standard credit card. To check the live converted price in your currency we recommend: https://www.xe.com/currencyconverter/