Be inspired throughout this programme as speaker, author, coach and educator, Andy Fell, shares insights into how you can transform your life and achieve your goals, one step at a time.
'I recently had Andy over to deliver the learnings to a group of senior leaders in Belfast - the BEST SESSION I have experienced in a long career.' Steve Daniels, Chairman, ICC Group, Belfast
More dates and locations to be announced shortly! 🦅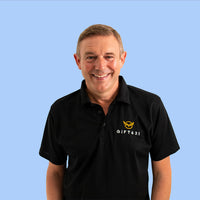 Meet Your Mentor
Andy is the Founder of GiFT631, a leadership and personal growth business that centres on helping people strive to reach their potential. Andy's work is highly regarded for its S.P.A.C.E. principles. His winning habits, routines, frameworks and achievement strategies are Simple, Practical, Actionable, Clear and Experience based.
As well as the #whatwinnersdo virtual and live events, Andy is an international speaker, coach, business consultant, leadership and talent development expert. He is the published author of 'The Rocking Chair Test' - a step by step guide to becoming #futureyou.'

Prior to GiFT631 Andy spent almost 30 years in financial services in the UK and Australia, the last 20 years of which were in senior leadership positions where he loved to build high performing teams and cultures.
Testimonials
"The What Winners Do programme certainly lives up to its name... I now have a road map to follow that will help me design the life I want and the skills to help me get out of my own way. Truly the best self development programme I've done."

Sharon Lawson, New Zealand
"I attended Andy's What Winners Do programme in Melbourne recently, and can genuinely recommend it as the best workshop I have had the good fortune to participate in... I'm incredibly grateful for the experience and am enjoying putting the programme into action in my own life."

Katie Cage, Melbourne, Australia
"Having attended Andy's What Winners Do event I was blown away by his GiFT631 success formula. The #giftbites provided on the course have been instrumental to my self-development and improvement. A brilliant event full of insights and tips on what winners like him do!

Neil Christie, Aberdeen, Scotland
Add customer reviews and testimonials to showcase your store's happy customers.

Author's name